ASSALAMUALAIKUM...
MAGGI OATMEE
Sambung lagi.. ini kali pertama wani cuba OATMEE keluaran MAGGI perisa kari..tapi kalau ikut arahan tu mi goreng.. i have improvised this maggi oat mee became oatmee soup hii.. i like one bowl with some gravy.. add - in other ingredients like prawns or egg to suit your palate.. ok la tu sedap ..tak semestinya kena buat mee goreng.. lagipun kenyang sebab bersup sikit..full not only happy tummy but healthy too.. sepeket dalam RM 6.99.. buat masa sekarang out of stock.. memang laku ... sesiapa nak cuba boleh lah klik
SINI
. TERIMA KASIH MAGGI. wah !! ini maggi yang dah siap masak :)))
NESTLE JUST MILK FULLCREAM MILK
emm banyak-banyak susu full cream milk lagi sedap... sesiapa nak boleh klik
SINI
untuk 2 x Nestle full cream milk 1L.. sudah diketahui minum susu ni banyak kebaikannya.. TERIMA KASIH NESTLE
MILO PROMOTION BUNDLE
dengan setiap pembelian MILO, anda akan mendapat percuma OLA BOLA beg.. boleh klik
SINI
..beg ola bola ni besar jugak.. boleh bawa balik kampung ..TERIMA KASIH MILO
anda boleh menggunakan kod seperti di bawah hanya untuk pelanggan baru sahaja. sah sehingga 17 Disember.. jangan lupa ya .. masukkan kod tu..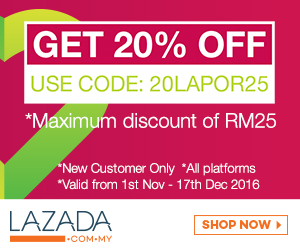 If you would like to participate in reviews like this in the future, please contact affiliate@lazada.com.my to join the Lazada Family!